When the South Gulf Cove Yacht Club members decide to have their 2nd annual fun gala, they set the date for March 13th. They brain stormed on how to improve this years event, if that was possible because last years invitational was a real blast. The rules were very creative and the longest hole was 36 yards. Only one club, of choice, was used for the entire game. Par for the five hole Rosebud Circle Country Club course was 16. The pro that set the par for that course must have been a real winner. The score cards were ingeniously fashioned and had a professional look. Green fees were $1.00 per person, and good for all day. Tee off's started at 12:30 PM, making time for a play off, if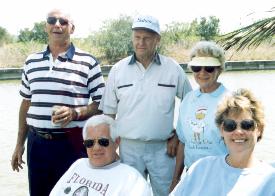 The tongue in cheek, "Professional advisement board, peanut gallery and all around hecklers" stationed behind the first tee. seated, Walt and Lynn Graham, Standing, Bob Lugari, Bill and Nan Campbell.

needed. Everyone brought a dish to pass, there were so many different and wonderful tasty assortments.

Entertainment arrived from Timbuktu and everyone had a "Blast Of The Past."

If you would like to get in touch with MaryJo contact her at the Englewood Sun Healed, 167 W. Dearborn St., Englewood, or call her at 474-5521 or 475-1079 or e-mail her through her web site at, http://users.sunline.net/maryjo.
Signing in at the "PRO SHOP" Alan Bull, Hal Lichty and Assistant, Justin Smith
Goofy Golf Course developers, Ken and Twig Nelson with "Ranger" Lance Crandell AKA BC.