Another great performance by The Fun Chorus of Englewood. They held their 13th annual Christmas show at the Lemon Bay High School Performing Arts Auditorium on Saturday night and Sunday afternoon. It was appropriately titled "Christmas Album." It included Christmas songs that everyone enjoyed. Santa made his visit with the children from The Redeemer Lutheran Church Sunday School and Day Care. The Happy Tappers, tapped to "Jingle Bell Rock" and "Frosty The Snowman." None of the "over 55" age group are paid for their services -- it is strictly volunteers a. Admission for any of the performances are free, however they do accept donations. Their main cause is to provide a cash scholarship to a musically talented Lemon Bay High School, and donations to community charities or causes. They are in need of new members. Qualifications? Just to have fun ! Call now ! Ken Sholes 698-0528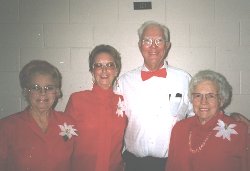 Executive Board: Treasurer, Marie Tally; Secretary, Margie Hockensmith; President, Ken Sholes; and Vice President, Marrietta Davis.
Great rendition of "Frosty The Snowman" with Happy Tappers Elizabeth Childs, Marie Kaule, Marj Hirschinger and "Frosty" Renate Petri.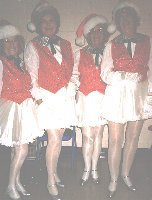 Happy Tapper, Marie Kaule, Renate Petrie, Marj Hirschinger and Elizabeth Childs.
| | |
| --- | --- |
| Many stand in line waiting for the doors to open. | Gerry Cambridge, Eleanor Cave and Jim Federline. |
| Shirley Ohmen, Betty Folkerth, Jeanette Sarlay and greeter, "TALL" Warren Urbanic. | Robert France, August Stiehl and Bernice Stiehl. "Wonderful show." |
| | |
| --- | --- |
| Music Director, Marie Rutherford and Pianist, Shirley Ferguson | Fun Chorus led by Marie Rutherford |
| Don and Wilma Johnson and Verla Fuhror. It was a perfect blend of music, voices and dancing. | Santa and the children of the Redeemer Lutheran Church Day Care School with the Fun Chorus in the background. |
| | |
| --- | --- |
| The lighting was superbly done by Lemon Bay High School graduate, Steven Australie. | "Its just seems to get better every year" as per Sarah Crolius, Thelma Hulbert and Rosalie Kapfur. |