The V.J. Desio Memorial Post 10476 celebrated the grand opening and dedication of a new post home at 3725 Cape Haze Dr., Rotonda West. It started with the merger of the Rotonda West 11152,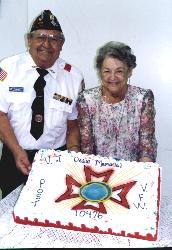 Commander Vincent W., and right hand person Rosalie Desio.
Boca Grande 4350 and Myaaka 10476, and was the results of a collaborative effort by many members of the post over a period of almost two years. Past Post Commander, Randy Spence gave the opening remarks and Bull Durham welcomed everyone and gave a review of the Post history, he stated: "It seems remarkable that this grand opening occurs during the 100th anniversary year of the Veterans of Foreign Wars." "On September 29, 1899, thirteen veterans of the Spanish American War met in Columbus, Ohio, they formed the American Veterans of Foreign Service, adopted the Maltese cross as their symbol, the same as used by the Crusaders and it is still the emblematic of the VFW organization. A number of veterans groups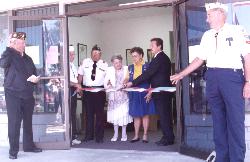 Ribbon Cutting and official dedication of Post 10476: Sel Kerrigan, almost hidden Chuck Mohler, Commander Vincent W. Desio, Rosalie Desio, Auxiliary President, Elaine Girard, CSO, Jim Bennett and Fritz White.
Pat Reau, bbartender, with Bull Durham and Henry Cwiklinski, bar operations.

Getting an early start on the objectives of the VFW: Fraternal, Patriotic, Historical and Educational. Barbara Johnson with grandchildren Joshua and Ashlee Johnson

joined with them and in 1914, they became the Veterans of Foreign Wars. The rest is history".

Actually the grand opening of Post 10476 was when Commander Vincent W. Desio accidentally opened the door with his Mercedes Benz, a few months before the GRAND opening on Saturday, February 13, 1999. For more detailed information on that grand opening please stop in the new post and ask for Commander Vincent W. Desio. If you would like to get in touch with MaryJo contact her at the Englewood Sun Herald, 167 W. Dearborn St., Englewood, or call her at 474-5521 or 475-1079, or e-mail her through her web site at, http://users.sunline.net/maryjo.

Rose Restivo, Fontaine Heilman, Ladies Auxiliary President Elaine Girard, Betty Wickham and Marie Silvestre.

Grace Braun and Past District 10 Commander, five times Myaaka Post Commander Ted Bonnell.