The Englewood Edgewater Club, 2840 Waxwing Lane presented its eighth Edgewater Follies. The club is owned and operated by its membership, composed of approximately 650 families of Lemon Bay Isles I, IA, II, and Holiday Estates III. The music, skits, dances and comedy, displayed the combined and very creative talents of the residents.
The theme of the show was "The 20th Century Moments To Remember" and was based on historical, musical and comedy from each decade of the 20th century. It was dedicated to all those who served in the armed forces. Thanks go out to all our sponsors: Partners In Design, Lynda's Gift and Bookmark Store, Frames Of Mind,
Gulf Coast True Value, CC's Cafe, Inc., Scruples, Int'L, Englewood Bowl, Angelo's Pizza, Southtrust Bank, Ricky Mac, Wal-Mart, Delaney's Meat Cottage, The Egg and I Restaurant, Karl Ehmers, Restaurant, Venice Area Chamber of Commerce, Blaco Construction, Inc., Licity Split Cafe, Pampered Pups and Pets, Paradise Jewelers, Siddon Locksmith, Young's Jewelry, You Pick and Farm Market, Key Financial Group, Kay Agency, Artspace, Bay Realty, Jim and Barb Mooney and all the volunteers.
If you would like to get in touch with MaryJo contact her at the Englewood Sun Herald, 167 W. Dearborn St., Englewood, or call her at 474-5521 or 475-1079 or e-mail her trough her web site at, http://users.sunline.net/maryjo.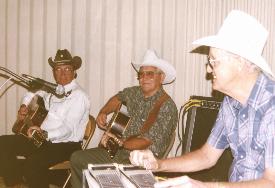 Music by: Morris Campbell, Ray O'Neal an Duke Ellington.