The Women of the Englewood United Methodist Church are jolly, and rightfully so. Another very successful pre-Christmas bazaar. The Creative Workshop meets every Wednesday to hand-craft most of the unique items for the Christmas bazaar. Many treasures were available for everyone on your Christmas list, or for yourself. Hand made quilts, costume jewelry, Christmas tree ornaments and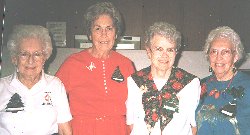 Creative ladies, Ruth Montgomery, Ruth McLaughlin, Doris Dein and Alice Fekete serving the doughnut holes.
decorations, stuffed toys, ceramic ducks, sweatshirts, T-shirts, aprons, wind chimes, gag gifts, and thousand of other items.
Coffee and doughnuts holes were available for the early bird shoppers, as was a great lunch. The proceeds from this sale will be used to fund mission projects and scholarships.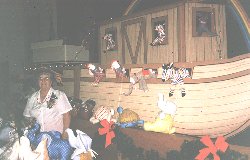 Creative Lady, Alice Buck in front of "Noah's Ark."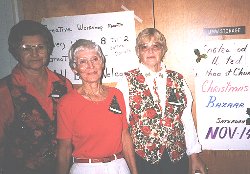 Creative Ladies of the creative Workshop, Charlotte Harris, Bette Valentinsen and Bev Sanderson.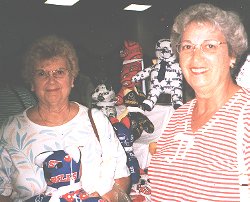 June Stephens add Marcie Stephens from North Port.