"The Englewood Oldies Cruise". One hundred and twenty people from Englewood, joined other passengers at Port Manatee on Tampa Bay for a vacation in luxury on board the gallant Regal Empress, "Where everyone knows your name". The Empress set her course for a four night sailing to Playa del Carmen and Cozumel, Mexico. The Regal Empress features wood paneled suits, veranda staterooms and mini -suites. Every stateroom is outfitted with a private bath, wall to wall carpeting, telephone, television, music and ample storage space . The dining was outstanding, the elegant midnight buffets were marvelous.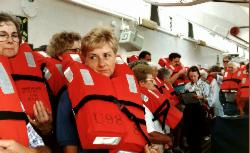 "A Command Performance For All" The U.S. Coast Guard required boat drill. Every one on deck with your life jacket!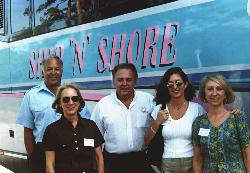 Ship "N" Shore bus driver Bill Brown, Dolores Steinacker, Michael Liberto, Cheryl Kopernick and Phyllis Bodewin.

There was pool side dining, a pizza parlour, six lounges, a disco, a Las Vegas style casino, a game room, children's programs, first run movies, sports bar, ballroom dancing, and on deck, dancing under the stars, a beauty salon, a gift shop, a boutique and games, especially BINGO, I promised I wouldn't tell who won twice at bingo but his name starts with a D. There was exceptional live entertainment and featured was Smooth Moves with Elvis, a trio that entertains at local clubs in Englewood and Rotonda.

Arriving at Playa del Carmen, one could choose to tour Chitchen Itza, or Tulum Ruins and Xel-Ha. Arriving at Cozumel, Mexico one could choose to snorkel, take the beach tour, the fiesta party boat,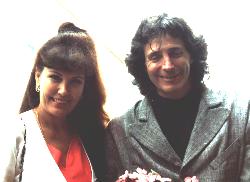 On Board, Regal Empress promoter: Sherri Ford and Love Travel Productions: Hunter Charnow." It's Groundhog Day!
the tropical safari jeep tour, fury sail, mermaid sub-ocean view, the Mexico fiesta folklorico, shop in town or just relax on the beach. All aboard! All aboard! The m/s Regal Empress sailed for Port Manatee, Fl., it was smooth sailing and an unforgettable adventure. If you would like more information on cruises call Ship "N" Shore Cruises, Inc. at 475-5414 or Rotonda Travel at 697-2300. If you would like to get in touch with MaryJo contact her at the Englewood Sun Herald, 167 W. Dearborn St., Englewood, or call her at 474-5521 or 475-1079 or e-mail her though her web site at, http://users.sunline.net/maryjo.